I'm a weary hobby seller on eBay.

I started on a different account back when eBay started (which I gave to an ex when we split up). This usually has its ups and downs like any life experience. But eBay has turned into a nightmare for sellers lately. There are many reasons why it's tough for us now, but this essay will focus on one area: shipping and handling.


Buyer problem
: Buyers want to pay exactly what the shipping cost is and nothing more.
Seller problem
: Sellers need to make money on eBay to continue selling on eBay. Not charging for all the extra costs we incur means we lose money. I mean to show buyers what happens when you sell on eBay. Quick and to the point, here is an item I recently sold where I received neutral feedback because, as the buyer put it, "
Shipping too high priced and slow
." I will prove here that it was not too high priced, and it was shipped within my limits shown on the eBay page - faster than the highest time estimated, in fact!
SHIPPING & HANDLING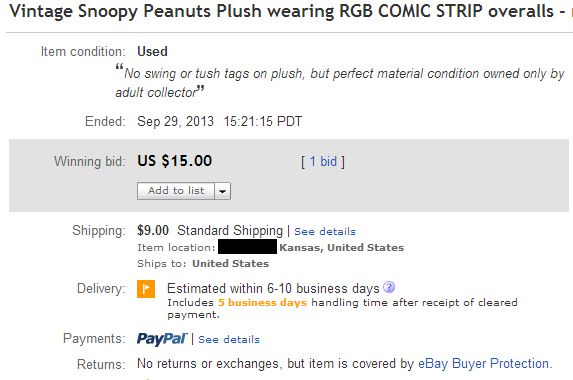 As a buyer, you need to be aware of all the information readily available to you on the auction page itself. Look at the details, because both eBay and I are telling you what you will pay: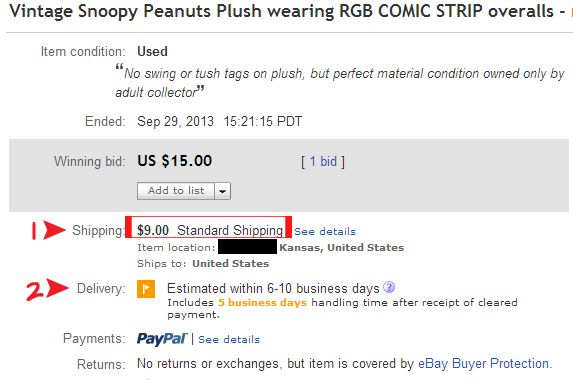 #1: the item will be shipped to you for $9.00 standard shipping, which means first class.
#2: the item has a 5 day handling time, which means
it does not ship out immediately
. The date shown is when it should arrive at your home. The buyer who left me neutral complained that a single week - 7 days -- was "too slow". In fact, I could have shipped in 10 days and been on course with what the auction very clearly states is normal.
Moving right along, if you somehow missed the bright orange letters eBay has used to show you the handling time I have on my auctions and how long it may take to get to you, there is yet another section within the auction itself.
#1: Click this, and it takes you to the next image, shown below.
#2: click this clearly marked, colorful section, and it takes you to a page where I explain
all my seller practices, such as shipping and handling
!
*NOTE: as of now, eBay has dismantled the "me" page system, because it gave sellers and buyers too much room to explain themselves and ridicule eBay itself for its bad practices. Thus, this is no longer valid.

After clicking the "Shipping and payments" section, this is what you find.
#1: this is the shipping and handling price I have listed for the item.
#2: I ship within 5 days after
cleared payment
, which means if your payment did not clear (meaning, I didn't get any money yet), I don't ship. Sometimes credit card payments do
not
go through right away, and if you pay by the dreaded e-check, it can take up to a week before the payment clears. You can't walk out of a store with an item without paying - it's the same with my items. I wait until the money is in my account.
#3: "estimated 6-10
business
days" means Monday through Friday, not the weekend or on any holidays! I've had buyers complain when I didn't ship on Sunday or a Holiday - and no, they weren't International buyers. They knew it was a Holiday in the USA. They just didn't
think
because they were too focused on themselves. As you can see, eBay even lets me have Saturday off. And c'mon, now, you get days off from work. I know you do. So why can't I? Erase weekends and holidays, then, from the timeline for shipping. It's perfectly legal and says so right there. #4: certain times are slow for the USPS. I can ship fast as I can, but during the Winter holidays, for instance, the items are not going to ship as quick as they usually do. This isn't my fault. I do not control the shipping of your item in the USPS' system, I do not work for them, and I do not personally deliver it to your door. If it says on eBay that I sent the package within the time that I should have, then I have done my part and should
not
be penalized for something I can not control. #5 once again, the handling time is shown, in case you missed it the bunch of other times it was shoved in your face. It even tells you that "
the seller has specified an extended handling period for this item
." This means it will take longer for me to ship it to you. I've now shown that I sent the item within the time estimated on the auction page, which says I did my part of the bargain well - better, in fact, than the 10-day estimate. In my book, 7 is a smaller number, right? Always, always, count the days and make sure what the auction tells you. I get a lot of complaints about "slow" shipping when I ship within my allotted times. To a buyer, "yesterday" is too slow. I say that if you get an item that is rare for less, one you couldn't find anywhere else, and it's in good condition - who the hell cares if it isn't there the second you paid for it? Patience is a virtue, and a week is not "too long" to wait!
SHIPPING COSTS
Let's address the "
shipping too high priced
" part now. You will almost always pay more than the exact cost for shipping on eBay or any online store. Inexperienced folks may not charge a fee or not care, but someone selling for profit needs to do this, and I will show you why now. I charged $9.00 shipping (and handling). Standard shipping (first class) was $4.30 for the item. The buyer knew this (perhaps the price was stamped on the outside of the box), and quoted it, saying the extra was "unnecessary" or something like that. $9.00 minus $4.30 = $4.70. They thought that the extra $4.70 was "too much" and they should be refunded the amount. Let's show the world what I paid to earn that $4.70, shall we?

As you can see, I paid $1.50 for eBay's "final value fee" and then, $.90 cents for daring to charge shipping. (This equals $2.40 cents so far).
Paypal time! Paypal then charges me $1.00 for using their services. (Now this makes what I have paid $3.40 cents). After this, I need to pay for tape and boxes that I pay for. Yes, I use as much recycled items as I can, but I do pay for items myself. This means I must charge for them in every auction to make that money back, otherwise I'm just bleeding costs and I will not make any money.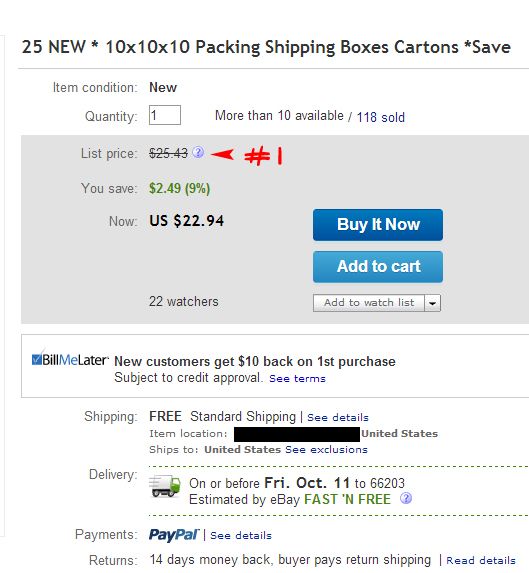 Here's what I usually buy - small boxes. As you can see,
on sale
they cost $22.94.
But as #1 shows, I normally buy them for $25.43. And yes, the screenshot is taken from the shop where I normally buy them! 25 boxes, 25 dollars. This means 25 buyers will pay $1.00 extra for their new, sturdy box. (Now this makes what I have paid $4.40 cents). Add in packing tape (not including the time I put in doing all of this!), and it goes
over $4.70
in fees I have paid to make this item available to you. I have clearly not overcharged. I need to recoup that money, or I'm paying out of pocket for it! eBay is about me getting money back for the items I am selling. I need the money to keep listing. If I don't make money, I can't make the items available to you to buy. In most cases, I'm selling the items for
less than what I paid
and
less than what everyone else is selling them for
as well. So I'm losing money anyway, and then I need to lose more because you want to pay even
less
for something you paid less for anyway? And sometimes, for a rare thing you can't find anywhere?! You should be happy you found it! Please think. The next time you go to give a seller neutral or negative feedback over shipping times and costs, give it a second thought. Think about it. Think, look, read. If it wasn't the seller's fault, don't just blame them.